This is a diary of my time in Melbourne, Victoria, Australia, containing musings, thoughts, notes written down in June and July 2017. Edited in August 2017 and February 2018. The number of rainbows is true and something else; everything else is as true as you need it to be. 
---
Day 1
A bird on a daring flight crashes from the sky, down, down, down, approaching us, this crowd waiting at these traffic lights by the library. Only right before hitting the ground right in front of us, in this very last fraction of a second, it comes to a halt, seems to pause in the air, before it rises back into the sky again. I'm in awe, I almost want to applaud the performance (even though I despise birds). I look around me to find out if anyone else has seen what I just saw there. Only one man and me noticed. His and my eyes meet and lock eye contact for a second. We both nod, knowingly, turn our heads and go our ways.
This is how it begins.
I'm overcaffeinated and underloved and most of my misery stems from distances and men. (This might as well become the title of my autobiography one day.) It's been six and a half months since my last visit and I've been counting. Now, I'm back here to find out what has changed since, but much more interested in what hasn't.
I'm so tired. Just so, so tired all the time. I stay in bed as long as I can, refusing to open the heavy brown curtains that block the overcast sky from my sight. I spend the mornings, the evenings and late nights working, because time zones are not my friend these days, and everyone I work with is so far away. In between, I face fundamental questions about the work I do, where I do it, and why. A friend talks me through a Visa processes for Australia and I'm tired.
Does Superman take superpower naps?
My dreams are mostly nightmares these days. Meanwhile, I learn that Berlin is having a few summery days, with temperatures around 35°C. Much later, I will learn that this time already came to a close after four days, and this was all of summer that Berlin got that year. And much, much later I will find out that this will be my year without a summer.
I'm so tired, and so cold. It's cold, everywhere and always. When I'm outside, I hear the people here talk about winter like it meant something. Sometimes, when we're out together, you'd spot dogs in the streets for me; the bouncy dogs look so happy when they're walking. Walking by myself, I'm too tired to try. As I stroll past the library and cross paths with a seagull (we ignore each other; until today, it's unclear whether it was polite or passive-aggressive ignorance), I watch a group of 50 blue suits collectively cross the street on the other side. All suits are the same shade of dark blue. It's so close to #06224f. Right next to me, someone holds a phone to their ear, listening with eyes closed; they open their eyes and look straight ahead saying: "Take everything, nothing matters to me."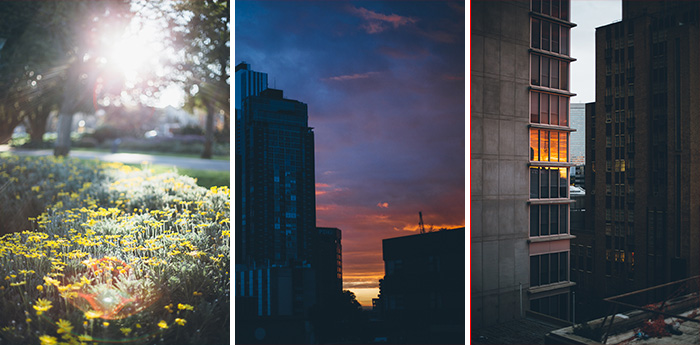 A child smiles at me. I think about what matters and still wait for the traffic lights. Jaywalking is practiced on a regular basis here, even during traffic as heavy as this one right now, so it is very surprising that so many people have gathered here and stayed for so long that it allows for a glimpse into their lives, or this version of their lives that's right here, waiting as much as I am, or even more.
I find an "I heart NYC" sticker on a lamppost. I do heart NYC as well, and I'd love to go back. It's funny how, no matter where we are, we dream of being somewhere else. Maybe it's this casual unfulfilled thought of escapism, the inner sticker on a lamppost, that keeps us from running wild right where we are. It's not always the light that makes a city special; sometimes it's only the façades that create reflections.
---
Day 4
The weather is bad, but at least it's authentic. These are days for velvety coffee and dreams of the sun. I admire the dip section in the supermarket and am very happy about the opportunity to finally try French Onion dip. As I tell someone about it (very proudly), they break into laughter and tell me that this has been absolutely out since the 90s, and I tell them that it's still absolutely en vogue in my life.
In front of the museum, there's a white van parked close to a wall, doors slid open. There's only one woman inside of it. She sits in the middle of three rows of passenger seats, close to the door, her chin leaning on her arms that are resting on the headrest of the seat in front of her. She looks out into a distance that's not there.
In the first exhibition, I see: a baby donkey; a dolphin; a woman dressed in a long red skirt, forming a bridge with her body; a baby's and a grown-up's feet; a collection of circles and paper balls; the question of all questions. As I walk out, they're playing my favourite Elton John song.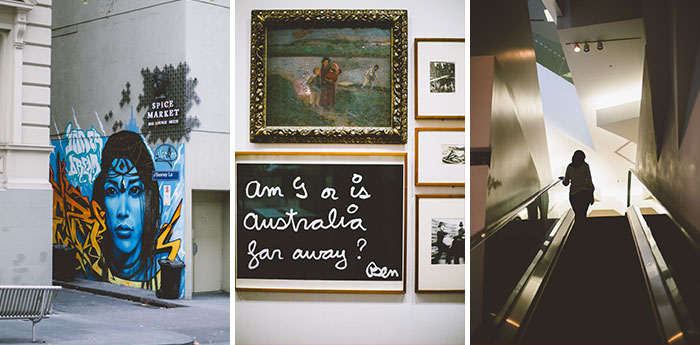 In the second exhibition, I see colourful paintings of unspeakable things, pieces of leather and branches, sculptures of ghosts throwing shade, and so much art that was shaped by violence, racism, abuse, and colonialism.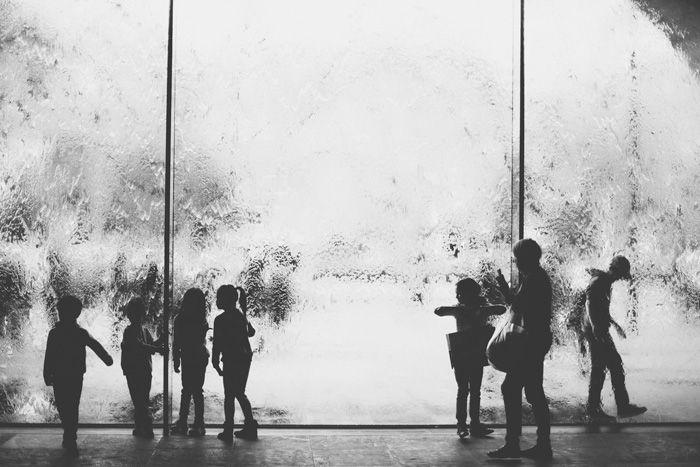 On my way out of the museum, a museum guard named George tells me stories of Aschaffenburg and Fiji. When I'm back on my way in the rain, it takes me a while to wrap my head around the beauty of this encounter. I cross a bridge, turn around, the sun comes out, I take a photo of the dramatic clouds and it's only on my tiny camera display that I notice the huge, half-faded rainbow. Seconds later, it fades. Leaning on the bridge railing, I keep staring in this general direction, waiting for the rainbow to come back.
It never will.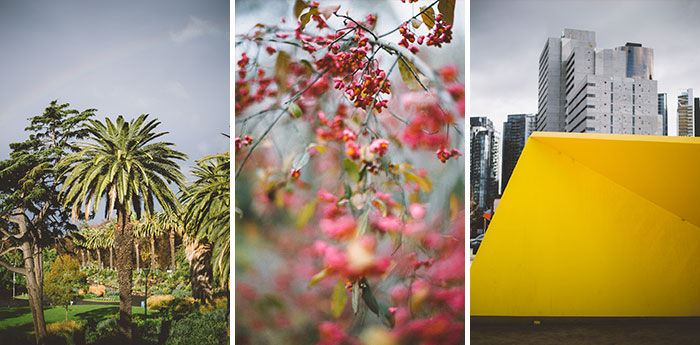 The crows are flying towards the sunset, into a sky full of dark grey clouds set against a bright yellow and blue backdrop. I watch the sunset and I care more about the way it's reflected in the building next door. At night, I watch other people do Karaoke. I love Karaoke, I even maintain a list of songs I'd sing during Karaoke, and I always want to sing during Karaoke (kind of). But I never do: all of the songs I enjoy singing will kill the last sign of good mood in a party crowd. So I only watch and listen. With every new 90s song that's on, I actually listen to the lyrics for the first time in my life, and this way, with every new 90s song that's on, another childhood memory of mine gets destroyed forever. Here's one advantage to growing up listening to pop music while not speaking English.
---
Day 8
On my way out of the city, I stand under a sign saying "Hail tram here", and I look up what "hail" means, just to be sure. And as the tram approaches, for the first time in my life, a I hail a tram. The tram stops and I get on. Inside the tram, there's an old man carrying a lion balloon.
As I get off the tram, a child gets on the first step leading up into the tram, stops on the first step, looks back over their shoulders, says "bye bye park!" at the park behind them as if it were the best and most exciting thing in the world. And it probably is.
A palm leaf strokes my hair. I meet a woman with an incredibly fluffy dog and she tells me the dog's name is Ewok. There's an amusement park with a rollercoaster and a ferris wheel and I wonder why I know the word ferris wheel. I think about what the loneliness of riding a ferris wheel by oneself feels like. The palm leaves keep sizzling in the wind. It might as well be spring. It might as well be good.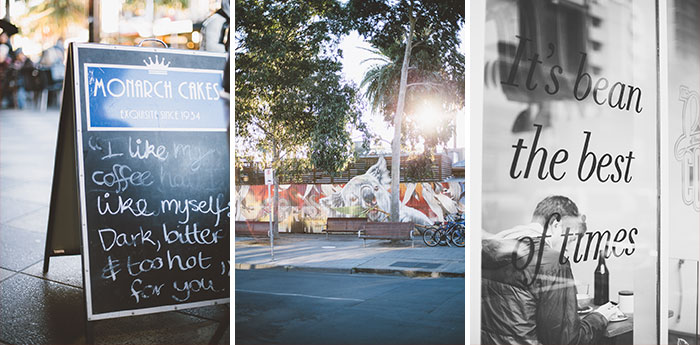 There's an ice skating area under palm trees and a sign that says LOVE right next to a fortune teller's tent. The palm trees are wearing fairy lights, and it might as well be spring. And then I stand on the green area between two roads and for the first time in my life, I see two wild, light pink parrots sit in the grass just a few steps away from me. I keep walking down the road, and then there's the sea, that's so calm and quiet today under this overly shiny sky. I wonder if I'll ever be able to walk down a beach without looking for shells and stones. I sit down on the beach and look straight ahead, narrowing my eyes because the sunlight is so sunny and light, and then I drop there, into the sand, right where I stand, in my winter coat and sweater, my boots, my tiredness, and my emotional exhaustion, and I just stay right were I am and look straight ahead. A container ship lingers on the horizon at ten o'clock. And oh, the waves.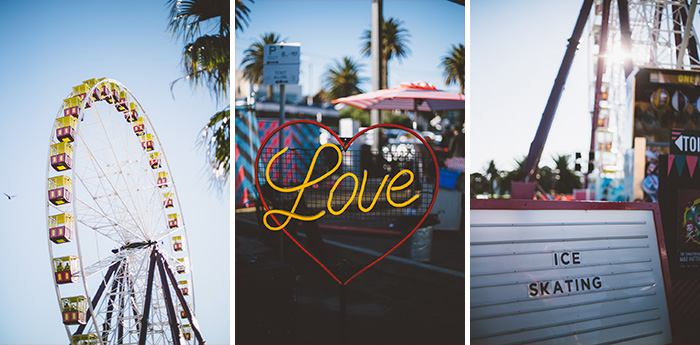 On a tram back into the city, I sit by the window. A drunk man squeezes himself on the seat next to me, then onto me, and blows his drunk breath into my face. I say excuse me, get up and head over to a different seat on the other side of the carriage, a seat that allows me to keep an eye on him. As I sit down, I think about apologies.
I see a man sitting on a wall hug a backpack and lightly rock it as if it were the most wonderful, precious thing in the world. As the tram keeps moving, I see a tiny dog stick its head out of the backpack, and I finally understand. Someone on the tram keeps saying "last stop" over and over. We're still very far away from the last stop of this tram, but maybe it means something different for them. Also on this tram: a woman looking at food photos on Facebook; a man making a phone call and taking a photo of a photo on his second phone. Outside: an advertisement to "earn your black belt in 18 months"; a mattress shelter under a bridge. I love trams for their ability to gently drive us past each other's lives, while giving us this smooth transition between where we were and where we want to go.
I get off the train and suddenly find myself whistling along to a Vengaboys song that's playing in a store I walk past. I meet a dog again that I last saw six months ago. His name is Doc. I take a picture of your window as the sun is hitting it.
My fingertips keep tracing the shape of a snail shell in my pocket. I walk past a drawing saying "Colour the dream".
---
Day 13
Standing at a bus stop at a major crossroads, trucks blasting past me, I think about my life choices. But then I'm on a bus out of the city and as we drive past houses, trees, houses, I keep wondering where the city actually ends. The grass is glowing in the milky light of this day and I can sense, hear, feel your affection when we're close; it's so hard when we're apart. I walk past a garden center, their slogan: Our reputation is growing.
A child walks out of an enclosed part of the park asking their parents: "why are there no snakes?" One parent responds, "because it's too cold." The child responds, a disapproving look on their face: "but I'm bored!"
I wonder about the plastic that's wrapped around the trees and it's only days later that I learn it has to do with possums. Someone walks past me looking at their phone, which has the picture of another person as a home screen. I always enjoy seeing this: it must mean this person has someone in their life who means that much to them.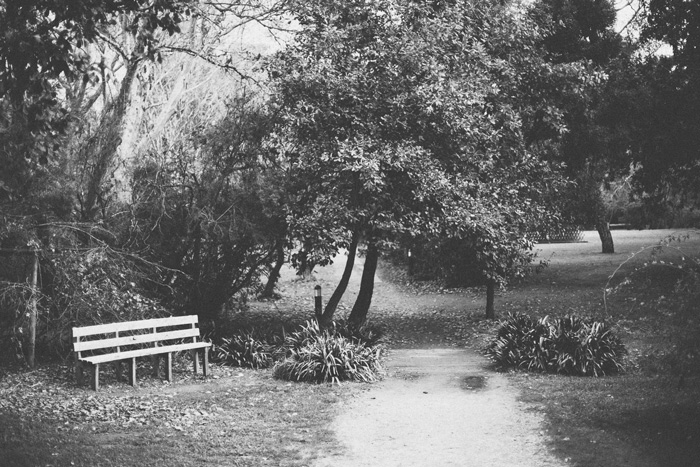 There's a girl throwing red leaves into the air; a giant walnut sculpture; a bush with leaves that smell very familiar, but I don't know the origin of the familiarity; a child looking at a sculpture, wearing a jacket with golden dots; frames with yarn woven through them into beautiful shapes;
I'm drawn to a tree carrying tiny orange fruit and white blossoms. I pick up one of the fruit from the ground and hold it in my hands. I want to know what it is, and I want to eat it, but I don't dare. The more I see of all this, the more I want to show you what my life was like many, many years ago.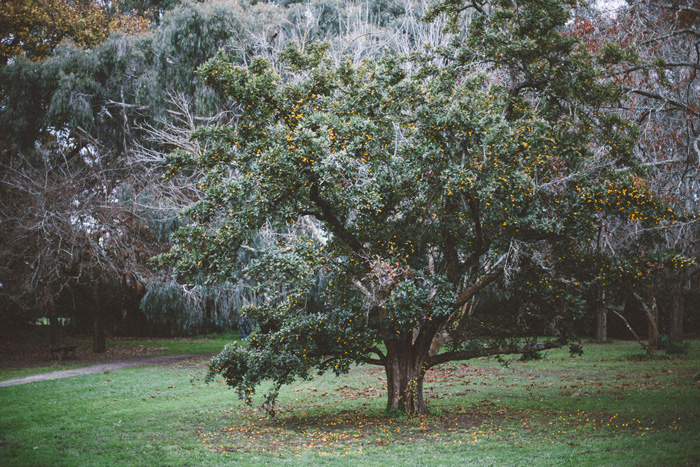 On the other side of the park, I find a giant apple tree. I stand under it and smell the sweetness of the overripe fruit. I close my eyes and dream of falling asleep and three weeks later, I would wake up again and I would be in a different life. Time goes by much more slowly when I'm alone.
Someone writes me that they're living vicariously through me, which is funny because, while this is so exceptional, I'm trying so very hard to find a sense of normality in all of this. And most times, I fail horribly. I fail myself, and I fail us.
It's late and dark as I head out to go home. Out the door, right, down, half-left to open the door, left, right, down the road. I'm incredibly sad. On the next corner, the keyboarder that always plays here has set up shop again. As I approach, I hear some chords. A group of people is standing around them, all filming on phones that they're holding up like trophies. I get closer and as I hear the first sweet bites of a melody, the rest of my gut drops right to the spot where it hurts so much, and I want to break down and cry. I keep walking, past the shops that are now closed for once but are still blasting music onto the streets, through groups of people chatting, and even as I'm way further down the street, I still hear the keyboarder play.
It's a night for a half moon, lying on its back.
---
Day 17
The coffee place is still at the same place where it was back then. I enter, the brick walls are still white, the sign in the back corner is still there, I walk up to the counter, and there's someone I know. They look up, look at me, with something in their eyes that says they recognise me. Just a little later, it turns out that it's T., someone I met six months ago three times for very brief interactions over coffee, – they still know my name, they still remember my story; and I remember theirs. It's so funny how sometimes people just see us, and we see them.
I walk up towards the market. There's a parking space on the left hand side of it. The last time I was at this parking lot was last summer, the same time I met T., when it was more than 35°C hot and I sat out there in one of the few bits of shade, leaning against a red brick wall, sending WhatsApp messages back and forth, waiting for someone to go to sleep and a phone call between a Wednesday and a Tuesday on the other fucking side of the world, sixteen hours difference, finally picking up the phone and staying there for four and a half hours, only moving to follow the shade, curling up as much as I could, making myself invisible to everyone passing by. The connection kept dropping, and on the other side of the line, there was someone very far away, much too far away, and I tried to hold it all together. I couldn't, and we ended up crying together. A day later, I was on stage to give a conference talk. Life is a funny thing, but many times, just a fucking sad thing.
A man rides past the coffee shop on a BMX bike, with a transparent glitter balloon attached to it. Somewhere in the room, hanging from the ceiling, is the question how you want to be remembered.
---
Day 22
There's construction work happening outside of my building. A construction worker wearing a hard hat (I still am amazed by the beauty of the term "hard hat") stops traffic so I can cross the road. The sign in his hand says "drive slow" on one side, and "stop" on the other side. I'd love to have this sign. (And a hard hat.)
I watch a dog run away, pet a cat, and have my portrait taken and eggs and conversations about bureaucracy. Meanwhile, there's an outrage on the internet about something that I've never even heard of. In a very small tree, a very large bird is trying to sit comfortably. A young woman asks me to help her navigate. She seems nervous and insecure, she tells me that she's from a small city on the other side of the country (which also means the other side of the fucking continent), and that it's her first time here. I try to calm her down and we figure out directions together. I watch her walk away with her suitcase. She reminds me of myself, a long time ago.
A woman with a guitar standing at a corner singing very sad songs makes me very melancholic. (I have a soft spot for women singing sad songs.)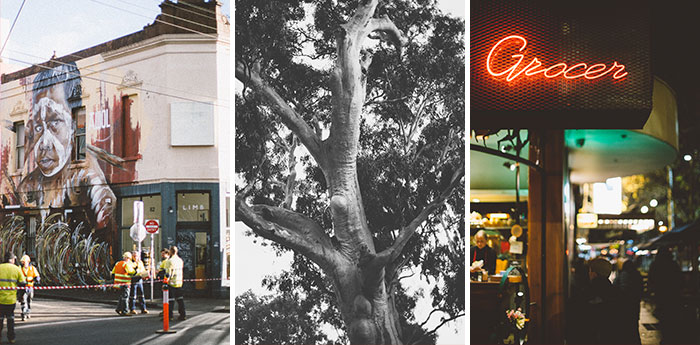 At a feminist theater play, one of the parts contains a fantastic bit about proposals, which contains the punchline "Let's blow up the local Woolie's together", which I will heavily re-use in the weeks to follow. "I am not sorry about the watermelon." – "It looked like wastelands where we thought we were building mountains." I go back home feeling like I could achieve anything. On the way home, I stop for a bit to look over Yarra river at night and realise that I don't care about the city if you're not in it. A busker has a sign saying "Rock'n'Roll ain't noise pollution". I fall asleep over the idea of a beach.
---
Day 27
I have a theory of a secret net of book stores world wide which are connected through a door hidden behind the poetry section. (The theory may or may not be connected to my love of books, my admiration for good poetry, and my deep hatred towards distance.) There are at least three versions of every one of my stories, and sometimes that's eating me from the inside.
I cross a wild road like I knew what I was doing, and I think that's actually true. I take a walk back to where we began, and I wish I could go back there in time. I'm really starting to know my way around here. I realise that it's because home is where you are, I can't help but see this place as home.
Everywhere I go, I ask myself could I imagine? Could I imagine living here? At the same time, I don't know what home is anymore. The birds are singing songs I don't know.
For years, I've now been thinking in English. And I'm starting to lose vocabulary in my native language, this language that I've nourished and broadened and deepened with so much care and dedication. At the same time, I'm lacking words, so many words in this language that's dominating my mind. And it's frustrating me. I don't have names for the things around me anymore. I only resort to categories: palm tree; christmas tree; tree; thing. Flower. Bird. I am back to painting my language with very broad brush strokes. I miss the ability to have accurate words at hand when I need them, where I need them. Instead, I have to search, look all over the place, sift through drawers in my head to find them (and, more often than not, I fail). All of a sudden, as I feel it fading, I feel much more connected to my native language and my home than I've felt in more than a decade.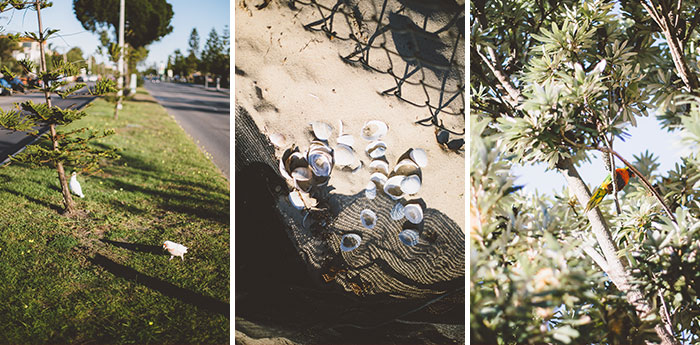 Everything in my brain needs to be adjusted. Everything is like what I'm used to, but it's still not the same. Everything is similar, but still off by about three to twenty-eight point seven percent. It is like when you've just woken up and everything looks a bit hazy, foggy, in weird colours, and you have to blink a few times and rub your eyes and it slowly adjusts. I carry this feeling with me all the time. An incomplete list of what feels off by about twenty-eight point seven percent: the birds, the trees, the rose hips, snakes in gardens, daffodils blooming in July, the intense greenness of the grass, wild orchids, the brownness of the river, the red brown of the soil, the traffic, "kiwi fruit" (you just don't say "there are kiwis on the counter"), the backyards with their walls, the architecture, the cricket grounds, the footy, the undergrowth, the bushes, the way the forests smell.
No matter how often I rub my eyes, it's just still off.
---
Day 33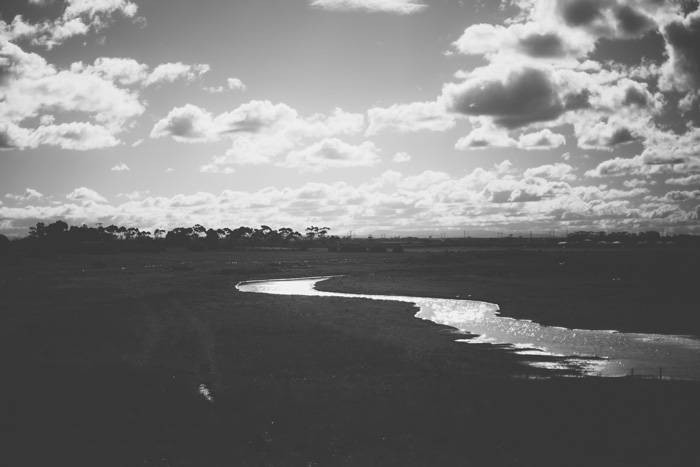 On a train down the coast, I can't stop starring out the window, admiring those great open skies over wetlands, the reflections of light, the fields, the trees.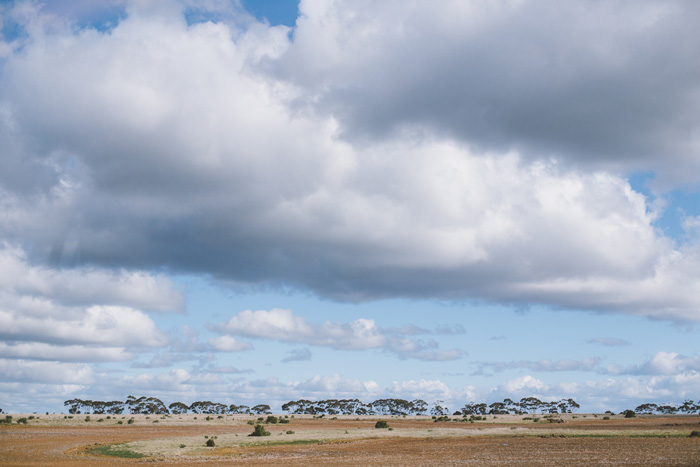 As we arrive, a rainbow is here already. Finally, a place to start and finish a thought, and a place to take endless pictures of the sea.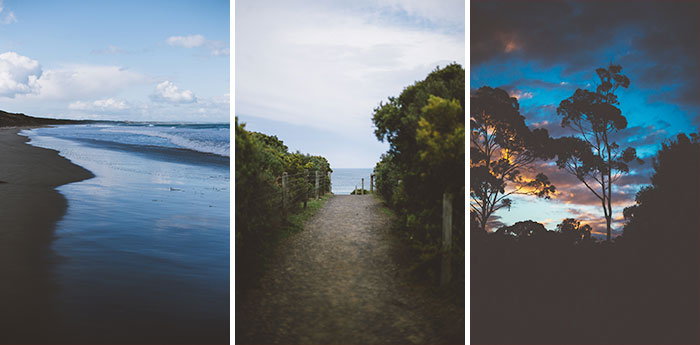 The next morning, I wake up to a garden view and the sun. We walk down to the beach and I want to open my eyes as wide as I can, to capture all this beautiful light. I look at your eyes, overlooking the open water. The tide is high, and we need to run from the waves. Getting a sense of connectedness with nature has always been fundamental in my life, and I seem to have lost it. I think back to the time when I tried to photograph exactly what you can see when you look at the dunes at midday in sunlight and half-close your eyes.
There's this one moment when the sea holds its breath.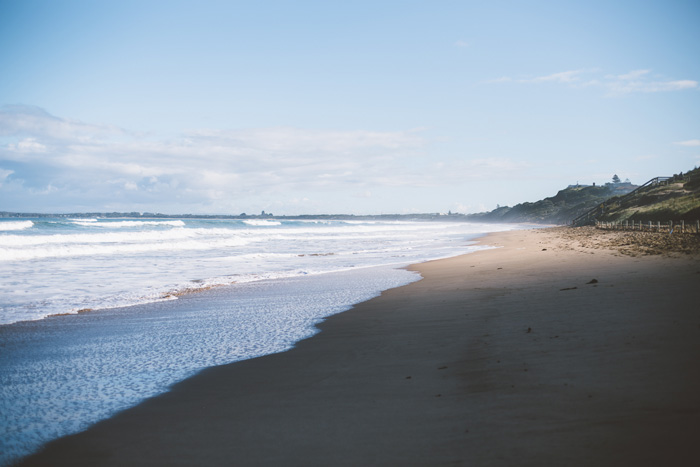 I take too many pictures of the sea.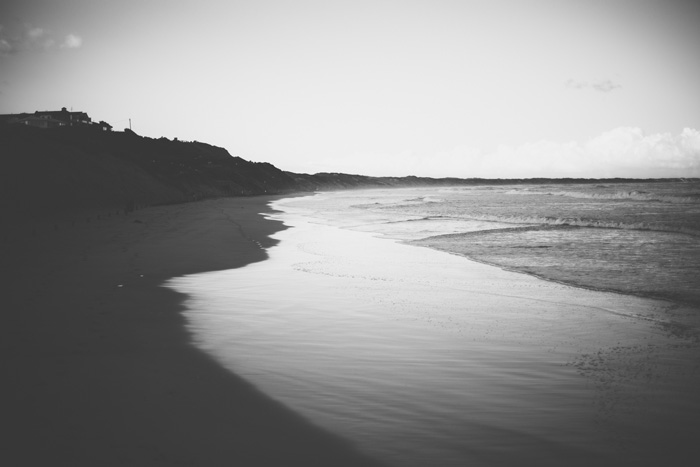 As I walk to our place by myself, I smile at the dogs and their people don't smile back. The soft smell of freshly cut grass in the air. I walk up a hill that people only seem to drive up with cars, and I'm starting to get a sense of how lonely I could feel out here. The bushes look soft in the late afternoon sun.
There's a rectangle shaped spot of light on the wall, like a second window into a sunnier world. The days go by so fast, and I realise that I only have very few nights left. I've known it all along, but now, the realisation sets in: you can't stock up on anything that really matters.
I begin a thought about belonging and have to drop it, before it makes me too sad. I'm not ready to leave you, nor to get back to my life as I've known it so far. The promise of another summer doesn't make the current winter less sad. I always think that it just can't feel closer to being over. Then, another second goes by. This was a day of five rainbows.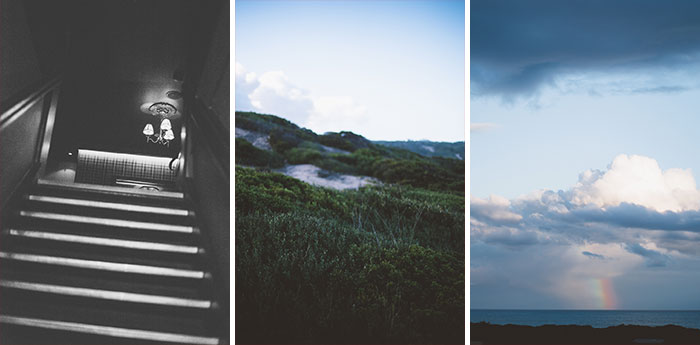 A moon is out, shining bright over the bay. I want to go down to the beach tonight and walk straight into the sea.
The next morning, we need to head out early. The sky is blue, and a double rainbow is stretching across the sky. Our bus departs in an hour.
---
Epilogue (Day 34/35)
This is the time when I can't go anywhere without thinking that it's the last time. I had more than five weeks to prepare for this, and I didn't. The pain hits me right as my last airplane touches the ground. And here I am, a body that has traveled maximal distance, waiting for a suitcase at luggage belt. As I open my suitcase, I take out the donut I bought. Twenty-eight hours and a lifetime ago. And this is how it ends.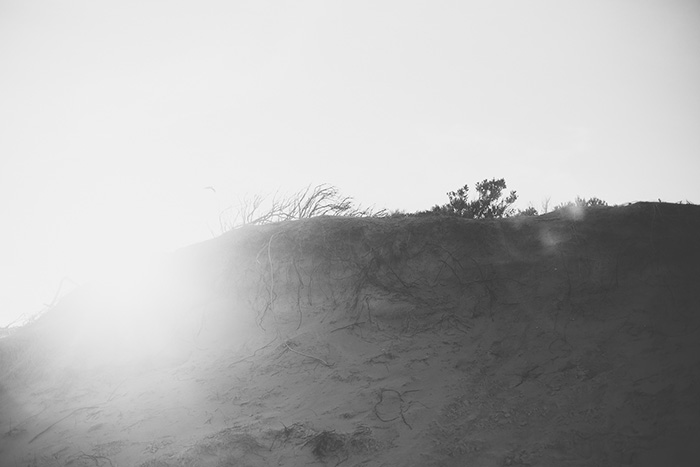 We were beautiful before this went down
We were beautiful before the years came
And turned it upside down
We were beautiful before we got wise
We were beautiful with sky and blanket laying low
---