Support: U.a. The Low Anthem. Indie-Folk. Zum Reinhören: Die machen sowas wie das hier, und sowas und das.
Kurzfazit: Leider etwas zu folkig, zu ruhig. Instrumente gut, Lieder schön, Musiker eh super. Aber, ein sehr großes Aber: Das ist Musik für Buch und Teetasse. Und Musik für wir-sind-bei-einem-von-uns-beiden-zuhause-haben-gegessen-und-rutschen-seit-einer-Stunde-zentimeterweise-näher-an-den-anderen-heran. Musik für solche Abende. Nächte. Musik für kleine Clubs und kleine bis große Momente. Aber es ist (leider, Mensch) keine Musik für ein mittelgroßes Open Air-Konzert.
Und Musik fürs Näherrücken machen die nächsten auch. Die Sogwirkung ist da allerdings ungefähr vergleichbar damit, was passiert, wenn man zwei Magnete auf einen glatten Untergrund legt:
KAWUMM!!
Die 5 Jungs von The National lassen es krachen. Aber wie. Mit dabei: Junge mit Bratsche, (kann ich ihn heiraten? Ich will ihn heiraten! … und nehm aber sonst auch einen der) zwei Blechjungs . Und wie es kracht. Jaja, diese Formulierung ist ausgelutscht, das ist wie heiter bis wolkig beim Wetterbericht, aber ich kann nicht anders.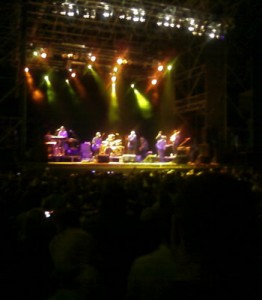 Das erste Mal sind mir The National im Winter begegnet, im selben Zug mit dem Musikgenre Shoegaze. Nein, es lag nicht am enorm eisigen Winter, und ja, das gibt es auch als Musik. Musiker, die meist auf ihre Schuhe starren, und zwischen Augen und Schuhen ab und an noch auf die Gitarre schielen. Und irgendwann vollends in ihrer Musik untertauchen (bezeichnenderweise hieß eine der bekanntesten Bands aus der ersten Zeit dieses Genres – Slowdive).
Dichte, atmosphärisch aufgeladene, elektrisierte, stellenweise fast ekstatische Musik, und wenn man die Augen schließt, glaubt man, gleich haut einen erst der Bass weg, und dann fliegt man auf den Gitarrenriffs davon.
Und damit wäre zu The National schon das Wichtigste gesagt. Ein bisschen Koketterie sei ihnen in dem Alter gegönnt ("we can't play the next song … physically. It's too hard for us!"), und einen Satz dürfen sie selbst zu ihrer Musik sagen: "We're gonna play an old song now. You may not recognize it, but, well … it's loud. And it's angry."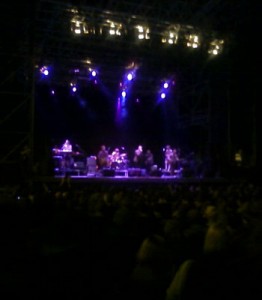 Das ist Musik, die irgendwo in der Bauchnabelgegend hängenbleibt, die einem an der Fußsohle klebt, und die letzten Grashalme auf dem Arena-Innenhof umhaut. Die so lange hochtreibt, jagt, pulsiert, bis irgendwann Ohren, Haut, Finger- und Haarspitzen dermaßen elektrisiert sind, dass die Spannung einem den Atem raubt. Dass es einfach krachen, explodieren muss, dass man nur darauf wartet, dass jeden Moment alles in die Luft fliegt.
Und dann:
Kawumm.
Und plötzlich ist alles wieder ganz still. Ganz sanft. Und alles knutscht, oder hält sich wenigstens (wenn sonst schon niemand da ist) am Bier fest, oder guckt unauffällig melancholisch auf die Bühne. Ja, so ist das. […] Aber dann kracht es wieder so laut, dass sich auch die Letzten die Knutschflecken und die Tränen der Rührung aus dem Gesicht wischen und sich freuen, dass auch Bass im Magen Kribbeln macht.
…
The National zum Reinhören: Fake Empire, Bloodbuzz Ohio, Conversation 16.
Liebe S., nochmal und höchst offiziell, und auch wenn ich mich wiederhole: Danke!!