This summer, I made some big and incredibly exciting changes: After many years in engineering leadership positions and in the seventeenth year of my career, I'm starting my own engineering leadership coaching & consulting firm, and I'm studying psychology at the most prestigious university in Germany in the field. [Insert :scream: emoji here.]
Continuing my deep dedication to systems of people and technology
Having spent the last decade growing engineering leaders and building organisations, I am so happy that I get to use my experience to continue supporting engineering leaders and teams through coaching and consulting, and help them reach their full potential (if you'd like to partner with me, let's do great work together!).
And I still can't believe that I get to study now. Going to university is something I've dreamed of for much of my life, but for many reasons, it wasn't in the cards previously. Creating this opportunity for myself now is one of the greatest gifts I could've given myself, and I can still barely believe it: Even after five weeks of university, it still feels so unreal to be there, hear lectures, and discuss with professors and classmates in seminars. And it's so wonderful, I can't even begin to tell you how lucky I feel.
If we've ever worked together, you know of my deep dedication to systems of people and tech, and this new beginning means that I get to continue this work: I am so thrilled to get so much more depth in both areas through working closely with more engineering leaders, and studying the science of humans: how we think, feel, behave, and what it means to be alive.
I've always believed that the greatest challenges in technology (and solutions to those!) are of human nature, so I'm particularly excited to get to connect both fields and feed back lessons learned in one area to the other.
Celebrating big changes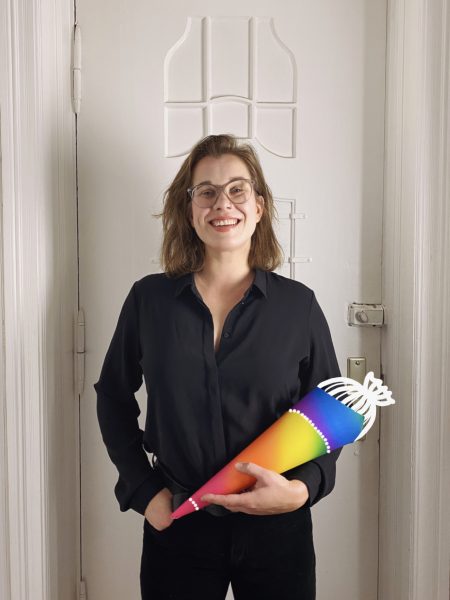 Where I'm from, it's customary to give kids a Schultüte ("school cone") on their first day. It's a paper cone filled with practical items like nice pens or crayons, as well as sweets and toys. And so I made one for myself for my first day at uni ­? as we say in Germany, man soll die Feste feiern wie sie fallen, loosely translated: you need to celebrate things as they happen (I know, we're not exactly known to be a very joyful bunch, but we're full of surprises!).
Admittedly, I spent more time on filling the cone with all my favourite things than with decorating it (and I'm only good at one of those things anyway), so a part of it had to be digitally enhanced after the fact (the rainbow is real though).
Follow along!
I've so far been amusing just my closest friends with tales from uni and all the fun and weird studies done to understand us humans (one day I'll tell you how scientists found out what babies remember their time in the womb after birth when, obviously, they couldn't ask them).
Now I plan on writing about this adventure here, and will share a bit more about my motivations and plans in upcoming posts and the first one is already up! You can subscribe via RSS if you're old school like me, or through my newsletter. I'm looking forward to sharing this journey with you all.
"The trick of the future is that it's empty, a cup before you fill it with water", the poet Maggie Smith wrote. — Here's to the future, and to all the water we can hold. And sometimes, the cup may just be cone-shaped.